PIVOT COLLECTIONS - FOR THE HIGHEST DEMANDS
Our expectations for all PIVOT upholstery fabrics are extremely high.They need to meet very demanding quality criteria, as well as reaching the highest aesthetic standards.
Discover the diverse ways in which all PIVOT Origami and PIVOT Soft collections can be combined with each other. Or combine PIVOT fabrics with items from the Munzert Classic collection.
Quality characteristics of the PIVOT collection:
Excellent durability
Excellent abrasion resistance
No pilling
High light resistance
High rubbing resistance
Very good breathability
Cigarette tested according to DIN EN 1021-1
Easy maintenance
Durable products, sustainably produced
SOFT-COLLECTION
The fabric creations from the PIVOT Soft collection speak for themselves. They represent a unique combination of elemental, timeless design, fashionable colours and convincing quality features.
PIVOT Soft provides an outstanding sense of well-being, generated by coordinating textures and unique soft touch. Their durability and extreme light-fastness set new standards in the area of upholstery textiles.
The Soft collection's extensive range of colours enables you to implement your individual design ideas and create unusual pieces of furniture.
Be inspired and discover the endless opportunities the PIVOT Soft collection has to offer.
Quality characteristics of

 the PIVOT S

oft

collection

:
Pleasantly soft feel
Extensive range of colours
High colour intensity
Cutting edge colour trends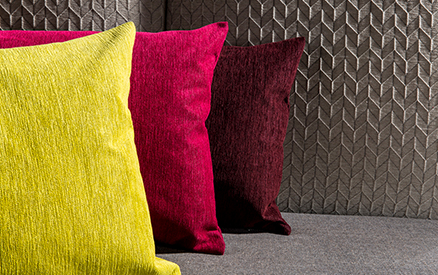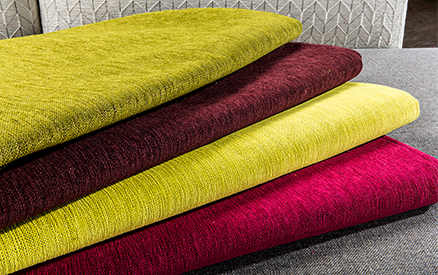 ORIGAMI-COLLECTION
The unique fabrics of the Origami collection make an impression with their unusual 3D appearance.
The Origami upholstery fabric is an innovative, three-dimensional fabric inspired by the Japanese art of origami. It is produced by combining solid individual fabric segments, creating a fascinating play of light and shade.
This is made possible thanks to an innovative manufacturing process, generating special folding patterns which have been predefined in the grey cloth using the Jacquard technique. 3D appearance, superb seating comfort and breathability are forming a harmonic ensemble.
Based on the Origami drapery fabric, winner of the Red Dot Award "best of the best 2013" category, we developed an inspiring upholstery fabric under the PIVOT brand, which offers new possibilities for furniture manufacturers and brands.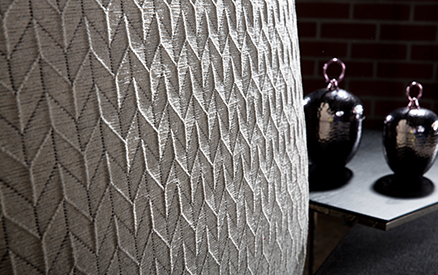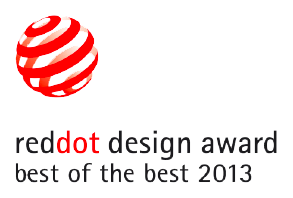 Quality characteristics of the

ORIGAMI

collection

:
Unparalleled light and shadow effect
3D appearance
Excellent comfort level
Breathable fabric
Diverse combination possibilities with the PIVOT Soft collection or the Gebrüder Munzert Classic collection
PURE TOUCH-COLLECTION

The innovation of accomplished benefits
Pure Balance combines the unique attributes of our established "Pure" fabric collection with an upcycled natural yarn component to craft an inventive performance fabric that enhances the well-being tremendously. The intelligent combination of natural and artificial fibers as well as the conscious avoidance of chemical finishing processes creates the signature for this sustainable fabric construction. Pure Balance intrigues with exceptional durability while preserving resources in the most comprehensive way. With Pure Balance, considered designwork forms a novel performance fabric. The lab tested construction with breathable and temperature regulating characteristics allows for unprecedented upholstery applications.
Perceived advancement – the Pure Balance experience
A symbiosis of function and emotion
Get fascinated by extraordinary performance in combination with an incomparable seating comfort.
A sophisticated production process unites two different yarn components to one functional upholstery fabric. The durable face complements the upcycling cotton component on the back in an unique way.
The result is perceptible! Pure Balance is breathable and temperature adjusting. In addition the jacquard woven fabric compels with an excellent moisture permeability. The Pure Balance experience is manifested in a accomplished yet natural binding structure paired with tremendous color variety.

TOP PERFORMANCE
Moisture control
Due to its capillarity, the ingenious layering structure of Pure Balance uses different yarn components to regulates moisture in a rigorous way. The yarn specific attributes in combination with accomplished weaving techniques ensure a natural seating comfort.
Temperature regulation
Pure Balance is skin friendly and advantageously adjusts to the body temperature while the two different material components improve the perceived well-being.
Breathability
The remarkable color variety of Pure Balance captivates by an outstanding breathability – lab tested functionality in the established Gebr. Munzert product quality!
Sustainability
The deliberate avoidance of chemical finishing processes along with the use of upcycling yarn components perfects the upholstery construction distinctively. Tested for harmful substances, the continuous ecological aspect of Pure Balance portrays the consistent advancement of our "Pure" product line. As decisive symbiosis of function and emotion the firm Pure Balance construction creates added value in a new dimension.
Sensation in a new form.
The new product line "Pure Touch" is a consequent enhancement of the unique PIVOT fabric constructions. Pure Touch is not distracted by current trends, it sets its own trend.
Pure Touch touches by consistency from design and production to finish ("PURE"). Traditional manufacturing techniques and the conscious avoidance of chemical processes create exceptional softness. ("TOUCH").
The pure and elaborated consistency makes Pure Touch so unique, attractive and innovative.

Pure Touch provides a tremendous color variety combined with exceptional soft haptics.

Pure Elements offers fascinating patterns that allow for a creative fabric composition.
The perfect interaction of all senses – Pure Touch & Pure Elements.
Experience complementary fabric constructions and discover their perfect symbiosis.
Eyes, Fingers, Hearts and Guts.
Enjoy with all your senses.
With the new PIVOT product line "Pure Touch" we are introducing fabrics that inspire all of your senses.
Quality characteristics of the pure touch-Collection:
Free your mind with Pure Touch.

Pure Touch is not only a fabric! It is more than that.
The fabric construction offers unrivaled attributes. Aesthetics, Significance, Intelligence – this allows for extraordinary combinations that strike all your senses.
Pure Touch intrigues by a comprehensive color variety, particular softness and the perceptible sustainability of each and every fabric.
Experience Pure Touch and create something unique.